Many dental health professionals in Quebec are concerned about the arrival of companies that allow the Quebec public to correct their orthodontic problems without having to meet a dentist or an orthodontist. Among these is the SmileDirectClub, which promises a "Do It Yourself" treatment using transparent trays, and at a lower cost than the equivalent treatment with a dental professional.
But behind these promises are potential risks to the oral health, which should not be taken lightly. The team of Dents Mon Quartier makes, in the following, address the situation.
The operation of self-managed orthodontic treatments
If we take the example of the SmileDirectClub, customers are promised a straighter smile, which includes teeth spacing, dental crowding and occlusion issues. It is also possible to know if one is a good candidate for such treatment by completing an online questionnaire. Thereafter, the treatment is based on the use of a series of transparent and removable trays, which make it possible to carry out progressive dental movements until the desired result is obtained.
The company presents on its website the functioning of its self-managed treatments:
Step # 1: The client goes to a branch to make digital impressions of his dentition, which will be used to design the trays (the impressions are made by an employee who, most of the time, does not have dental training). It is also possible to receive a kit by mail to take your ownimpressions using a mold and a paste.
Step # 2: The trays are then sent to the client's home, who can at the same time observe the final result he will get at the end of treatment. The treatment steps are then indicated to the patient in writing.
Step # 3:It is promised that in 6 months the patient can get better aligned teeth. He then has the option of ordering a retention device to maximize the durability of the results, for an additional fee.
The company mentions that a dentist is assigned to each client. By teledentistry, he tracks the progress of a client's treatment every 90 days. No initial consultation is conducted with the dentist and no in-person follow-up exam is conducted during the process. Follow-ups are done remotely, using photographs sent by the client.
Why are dental professionals worried?
Faced with this situation, the Quebec Order of Dentists makes it clear that in order to make a diagnosis and prescribe a treatment plan, a dentist or orthodontist must meet a patient in person. This applies to all types of dental treatments, even those that have only cosmetic purposes. Indeed, it is essential to perform a full oral examination, which often includes x-rays, to assess a person's condition. This comprehensive examination helps confirm the health of oral tissues (teeth, gums, etc.), as well as in-depth analysis of dentofacial structures.
If you decide to go ahead with orthodontic treatment without having been examined by a dentist or orthodontist, there are many risks to your oral health. By moving the teeth, one directly affects the surrounding bone structures that must adapt to tooth movements. If these are not done correctly, several disorders may arise, including:
An imbalance of dental occlusion (relationship between the two jaws);
premature wear of parts of the dentition;
pain in the joints of the jaws;
swallowing and speech problems;
loss of permanent teeth;
The exacerbation of gum problems already present.
This is where the main problem lies with self-managed orthodontic treatments: it is impossible to ascertain the feasibility of an orthodontic treatment with a simple questionnaire completed online. It is also impossible to ensure that it is safe for the dental condition of a patient to perform a treatment without a dentist performing a full examination, an act that must be performed in person ...
The mission of a dentist must always be to prevent the occurrence of oral problems in the population, including the right means of awareness. At Dents Mon Quartier, we are concerned that patients are dazzled by the good promises of companies offering self-managed treatments, which fail to clearly mention to their clients the risks they face. Always remember that before starting any oral treatment, you must consult an oral health professional and obtain a complete examination!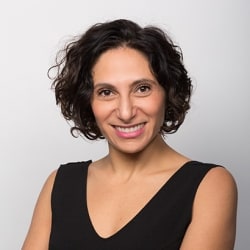 Approved by Dre Charouk
Dr. Joumana Charouk, D.M.D, is proud to offer her patients exceptional care that combines experience, efficiency and good humor.
Dre Joumana Charouk, D.M.D