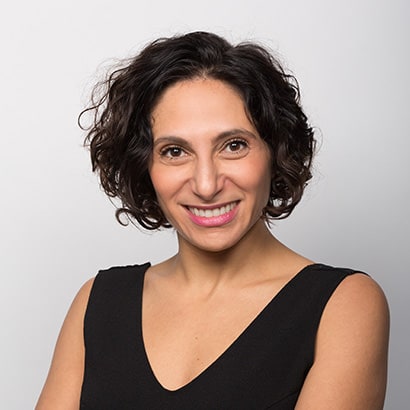 Dre Joumana Charouk

D.M.D, general dentist
Dre Joumana Charouk : patient devotion and dental experience incarnate! 
Dr Joumana Charouk's journey
Upon graduating from the Faculty of Dentistry at the Université de Montréal in 2000, Dr. Joumana Charouk had but one dream: to take care of the health and smiles of her patients by offering them quality dental care in a warm and friendly atmosphere.
Meanwhile, she continued to hone her knowledge and skills in various areas of dentistry: in 2008, she completed a Master's Degree in Temporomandibular Joint Disorders (TATM) at the Danube University in Krems, Austria, and subsequently also attended several courses in orthodontics. Her dream came true in 2012, when she finally opened her own clinic, which she named Dents Mon Quartier.
Ever since, Dr. Joumana Charouk, D.M.D, is proud to offer her patients exceptional care that combines experience, efficiency and good humor. Its goals are to help patients understand the importance and impact of oral health on overall health, improve their well-being, rehabilitate them and make their smiles as natural as possible.
In her spare time, Dr. Joumana Charouk loves to paint with her two children, practices yoga and dances salsa ... when she has time! She loves all creatures of the animal kingdom (even the bugs that make her squirm). She also enjoys travelling to discover other cultures.
She speaks french, english, arabic and spanish.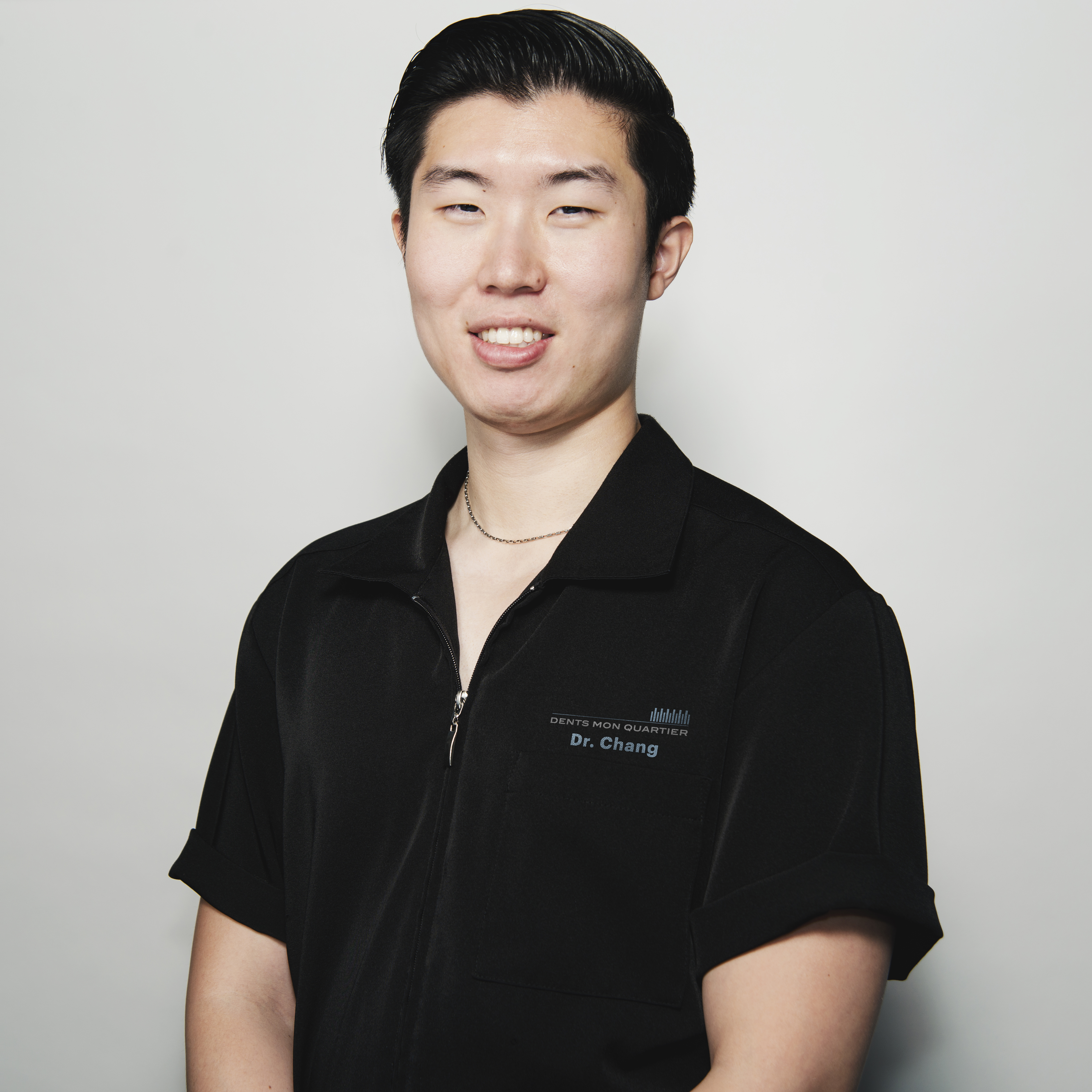 Dr Eric Chang

D.M.D, general dentist
The team at Dents Mon Quartier, your dental clinic in LaSalle, is excited to welcome Dr. Eric Chang (Dr. Eric). Passionate about pediatric dentistry and mindful of giving quality care to them, he oversees our pediatric dentistry department in LaSalle.
A practice centered on the well-being of your child
Being a general dentist, Dr. Eric completed his Ph.D. in Dentistry at Laval University in 2017. He then completed a two-year residency at the Montreal Children's Hospital. The latter has allowed him to acquire more knowledge related to pathologies that particularly affect children. It has also developed skills to develop intervention plans to deal with more complex cases, always with a gentle, focused approach tailored to the specific needs of younger people. Dr. Eric continues his practice at the Montreal Children's Hospital.

Dr. Eric's goal is always to build trust with his young patients. He knows how to take the necessary time to foster their collaboration and, above all, to make their experience at the dentist a positive one. Amongst other services, he offers conscious sedation with nitrous oxide, which is particularly relevant for younger people, the most fearful, or those with special needs.
Services offered in children's dentistry
As a general dentist who has focused his practice on children's care, Dr. Eric has a broad knowledge of the growth and development of teeth and jaws, as well as the care specific to children's small teeth.

Entrust your little ones to him, from their first visit to the dentist to their early teens. He will be able to offer them all the necessary care, including:
First dental appointments: these are crucial moments to enable the young child to develop a relationship of trust with his dentist and with the dental team. Dr. Eric and the professionals around him pay particular attention to their approach.
Comprehensive dental examination: Regardless of the child's needs, Dr. Eric first performs a complete dental examination. This provides a comprehensive picture of the young patient's condition and the care to be provided
Hygiene care and preventive treatment: children's small teeth are vulnerable to bacteria. They must therefore receive the necessary hygiene care to prevent several pathologies, including tooth decay. Professional cleaning, fluoride application and dental sealant are among these preventive treatments.
Prevention and treatment of cavities: early childhood tooth decay prevents the primary teeth of young people. Without treatment, it can spread to several teeth and have serious consequences.
Conscious sedation with nitrous oxide: This is a completely safe method to treat children when they are young or anxious. This type of sedation helps to relax the children, to make them fully collaborative to the care they receive, in addition to allowing them to have a pleasant experience of their visit to the dentist.
Learn more about our pediatric dentistry services in LaSalle.
When to see Dr. Eric?
It is recommended that children consult a dentist, for the first time, within 6 months of the eruption of his first tooth. Otherwise, one should not wait beyond the age of one year to carry out a first consultation with a qualified dentist in pediatric dentistry.

As the child ages, Dr. Eric monitors his oral health and the development of his teeth until well into his late teens. Whatever the nature of dental care your child needs, he or she will quickly feel confident with Dr. Eric Chang!